Rostov too strong for FTC; Neagu propels CSM to closing win
Just like in the five previous DELO WOMEN'S EHF Champions League encounters between these two teams, Rostov-Don defeated FTC-Rail Cargo Hungaria in their last main round match when they opened the day's action on Saturday afternoon, 29:26.
However, it is not yet clear whether the Russian champions will finish second or third in the group, as their position will be determined on Sunday after Esbjerg play Metz.
CSM Bucuresti and Vipers Kristiansand were both certain of their final positions in the group – fourth for CSM and fifth for Vipers. However, their DELO WOMEN'S EHF Champions League match was exciting, especially in the first half, and it saw CSM win 28:22.
Rostov now have 13 points – as many as group leaders Metz

fourth-placed CSM finish the main round with 11 points and will meet Györ in the quarter-final

with five points, FTC are certain to finish bottom of the group and their Champions League season is now over

Vipers lost all six matches in the main round and are out of the competition

Cristina Neagu has another huge outing, with 10 goals for CSM
GROUP 1
Rostov-Don (RUS) vs FTC-Rail Cargo Hungaria (HUN) 29:26 (17:9)
Both sides had missed some early chances before Noemi Hafra opened the score almost five minutes into the match. However, that proved the only time during the whole game that FTC were in front.
Rostov soon took firm control of the match and comfortably led 8:3 midway through the first half.
Mayssa Pessoa did a good job in Rostov's goal, while Anna Vyakhireva and Kseniya Makeeva set the tone in attack, and the Russian side took a clear 17:9 lead at half-time.
FTC's leaders Katrin Klujber and Hafra missed many attempts in the first half, but improved after the break, finishing with eight and six goals, respectively.
Replacing Blanka Biro in the second half, Zsofia Szemerey made a string of saves that helped the visitors cut the deficit to 19:14.
Rostov slowed down and made a number of mistakes after the break, yet their win was never really in question as Pessoa continued with great reflexes and Anna Sen scored some beautiful goals.
With four minutes to go, the hosts led 28:22, and all FTC could do was slash the gap to three goals.
"This team is very difficult to fight with. We wanted to finish the main round with good taste, and we did it. We had some problems and sickness in the team, but all the players took part today and brought the win," said Rostov coach Ambros Martin. "Now we don't depend on us in the ranking. We did our job. Now we are waiting for the result of tomorrow's play."
CSM Bucuresti (ROU) vs Vipers Kristiansand (NOR) 28:22 (12:11)
After losing their chance to proceed to the next stage, the Norwegian side's motivation was to end their five-match losing run and bid farewell to the competition on a positive note.
However, the absence of some injured players took its toll again. With just 11 players in the squad, Vipers did well in the first half but lacked power and energy after the break.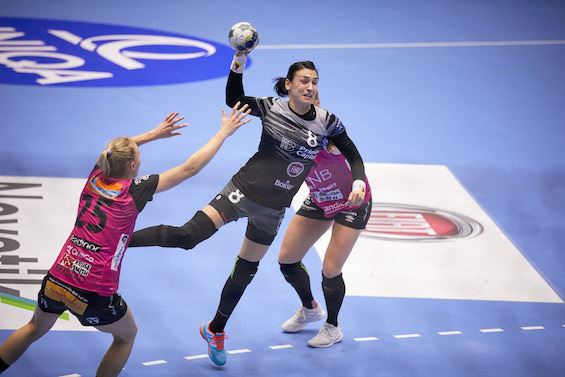 For CSM, Cristina Neagu made the difference again. In the reverse fixture at Vipers, she scored 14 times, helping her team to win 25:23. On Saturday night, she netted 10 times.
"It was a very good match for us. I am very happy we could finish the main round with a victory," said CSM coach Adrian Vasile following the match. "This game couldn't have changed the rankings in the group, but it was an important win for our confidence."
Powered by Neagu in attack and Jelena Grubisic's saves in goal, the home side had a better start and led 6:3 by the 12th minute. However, after a timeout called by Ole Gustav Gjekstad, Vipers enjoyed a strong run and drew level at 6:6.
The visitors fought hard, but CSM had a slight advantage and led by one goal at the break, 12:11.
In the second half, Bucuresti found their rhythm, and their advantage started to grow slowly but steadily. Even goalkeeper Denisa Dedu, who replaced Grubisic late in the game, found her name on the scoresheet as CSM won by six goals.
Author: Sergey Nikolaev / cg